What could possibly be a more enjoyable and entertaining addition to the home than your own bar? Adding one to your remodeling project creates a new hub around which guests can gather, test their mixology skills, and share great memories over the course of an evening. Of course, adding a this feature into the home requires more planning than adding a single shelf or a couple stools. Proper storage, room for seating, plumbing, and electrical all come into play when deciding how and where you'll place your new bar. If you're working within a limited space, there are a few tips and tricks that may help. It's time to say goodbye to your bar cart once and for all and lean into luxury with a chic bar installment of your own that is a little more permanent.
Possibilities with Placement
The possibilities for placement lay the framework for how the bar will be used, so choose an area which speaks best to your intention for the space. If planning on serving pre-dinner party cocktails, consider keeping the bar close to the kitchen so that guests can breeze through the dining area with an Old Fashioned in hand. If you prefer a night cap at the end of a meal, a separate room in the garage, basement, or outdoor space could be a more viable option as you leave the dining area in favor of a new setting.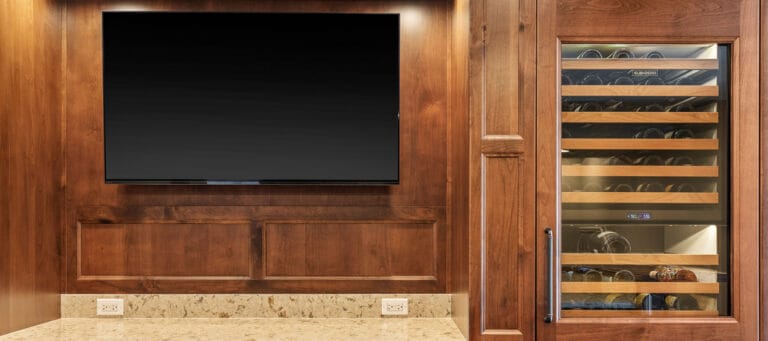 Build Up!
One of the most imperative features to implement in the bar area is adequate storage. Without enough space for bottle storage, countertops look cluttered and space for pouring cocktails becomes compromised. A great way to combat counter clutter is utilizing vertical space to build upwards. This will also add to the overall impact of the bar area, as decorating the wall space with additional bar amenities will add to the grandeur of the space. Consider also installing deep yet tall drawers so that bottles can be stored while standing for ease of use.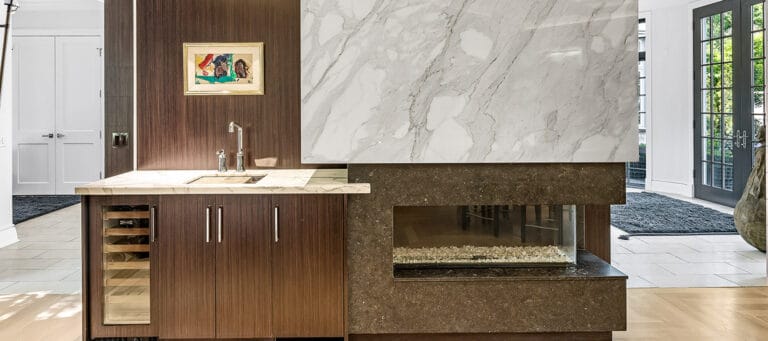 Prioritize Useful Equipment
When it comes to building your perfect bar, there are an abundance of possibilities for which amenities can be implemented into the space – a modest wine fridge for the occasional white, layers of wine racks for robust reds, an ice machine for a craft cocktail, or even a built-in keg for IPA aficionados. While all of these amenities would make a stunning addition, prioritize installing the ones which your household and guests will get the most use out of to avoid suffocating the bar area.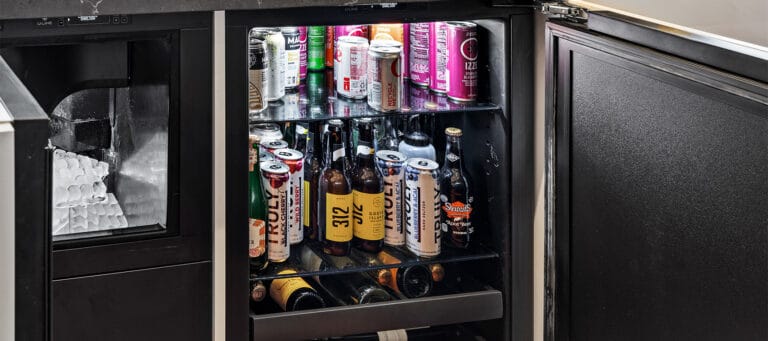 Closet-Chic
Find that you're simply not using that lower-level closet or pantry? Consider repurposing the entire configuration into a closet-bar. Nestling a bar into a former closet creates the perfect environment for a newfound wet bar without having to sacrifice floor space. Outfit the inside with a new sink and wine fridge and behold a simple yet astounding transformation. While you can opt to remove the original doors to keep the space open, you can also install a creative interior door, such as a bifold or barn, for an intriguing hidden oasis.
Whether you plan to repurpose an existing space or completely redesign your home to fit the bar of your dreams, Airoom will be there to guide you through every step of the way. A project with Airoom means getting the result you desire from people who have your back. To begin your home renovation, contact Airoom today at Airoom.com or call at (847) 325 – 5843
Questions about the blog?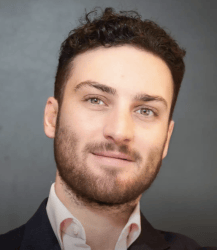 Latest posts by Maxx Klein
(see all)