When you think of a remodel, kitchen or interior transformations might spring to mind. But have you considered the potential of an exterior remodel? The exterior of your property is crucial in enhancing your home's value. It's the first impression your home makes on friends, family, and potential buyers.
Create Curb Appeal
Upgrading the exterior of your home can be a game-changer. It doesn't always mean undertaking a massive project; sometimes, specific, well-thought-out renovations are all you need. An exterior makeover can drastically elevate your home's aesthetics, and its curb appeal can significantly impact your property's value. Simple landscaping efforts can transform your home's exterior into a captivating sight. Consider planting privacy trees, building a charming garden, installing a paved pathway with flowers, and maintaining lush, green grass. The possibilities with landscaping are truly limitless.
Outside Renovation Tips
Success in exterior home renovations hinges on robust planning. Outline each step of your project to ensure smooth execution. Develop a vision and determine your finances to establish a realistic budget. Airoom also advises setting a pragmatic timeline, crucial for not rushing and paying attention to important details. Elements like lighting and landscaping are vital in outside renovations, offering substantial improvements to your home's appearance.
Split Level Exterior Makeover
Split-level homes, a staple of 60s and 70s architecture, can appear dated. However, with a few strategic modifications, you can transform your home into a modern haven. Consider changing the entryway or relocating doors and windows for a contemporary touch. According to real estate experts like Zillow, updating windows to a modern style can instantly revitalize your home's look. Additionally, adding exterior accessories like stylish light fixtures and house numbers can make a significant impact.
Exterior Remodeling Cost
An exterior remodel is an excellent investment for those looking to enhance their home without overspending. There's a variety of options to suit different budgets, from exterior painting and siding upgrades to landscaping projects. It's always wise to consult with a contractor for precise estimates.
Outside Renovation Tips
For your exterior home renovation to be a success, you must implement a strong plan before starting your project. By planning out each step of your renovation, it will help things to run smoothly. Before beginning your home renovation, you should develop a vision and determine your finances to create a realistic budget. Fortune Builders also recommends that you set a realistic timeline to ensure that you don't rush or overlook the essential details. Lights and landscaping are two important details that should never be overlooked in outside renovations. Although they seem like minor details, they can majorly improve the look of your home.
Split Level Exterior Makeover
Split-level homes in your neighborhood can look dated and be reminiscent of the 60s and 70s. However, a few simple modifications can transform your outdated home. A split-level exterior makeover is one great way to improve and modernize your home. A split-level exterior makeover can give the original look of your home a modern refresh. This refresh can easily be done with a change of entry or relocation of doors and windows. According to Zillow, replacing old windows with a more modern style can instantly modernize your homes look. Zillow also recommends adding exterior accessories to your home to update its traditional look. Light fixtures and house numbers are two elements that can create a drastic difference on the exterior of your home.
Exterior Remodeling Cost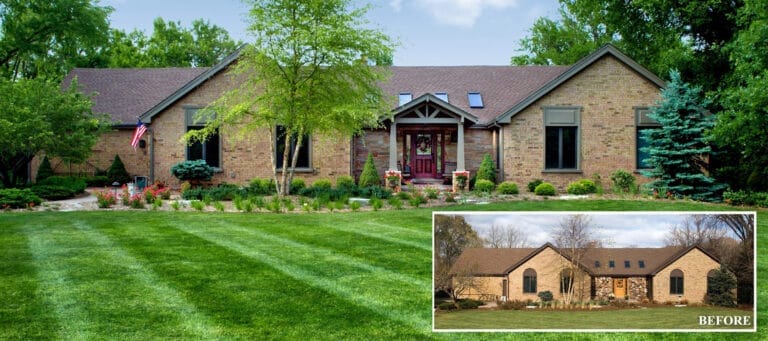 At Airoom, we have transformed numerous homes, often exceeding expectations. Our team of architectural, design, and build experts are ready to assist you in your design journey. To learn more about our services or to start planning your home's exterior remodel, contact us today. 
Questions about the blog?
Apply for One of Our Open Positions